We build custom computer cases from high-quality materials (such as aluminum sheeting and anodized t‑slot extrusion) to fit your specific needs.
We can design and manufacture a custom high-quality enclosure to house your PC, server, GPU rig, render station, or external water cooling radiator.
Portfolio
Latest Custom Build – Tall Tower with 18 IO Slots
Our latest custom build is a super tall tower with 18 IO slots.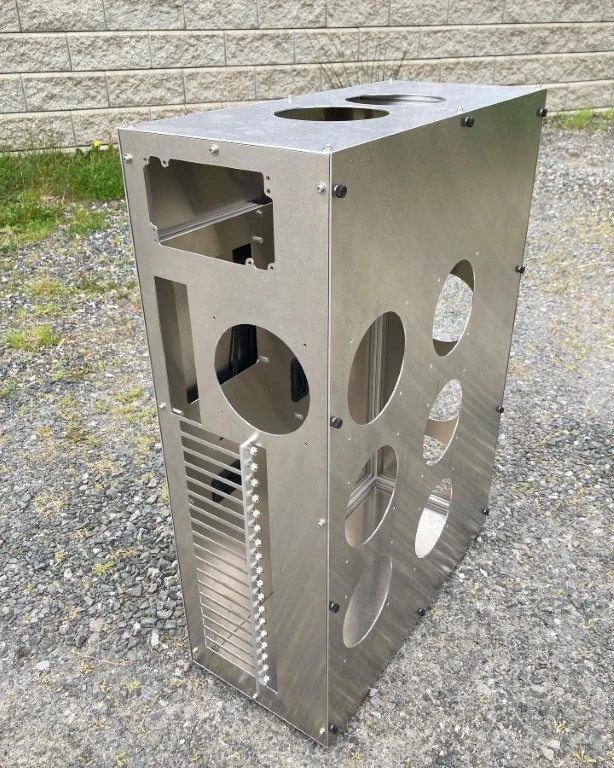 Shallow Serer Case with Removable Motherboard Tray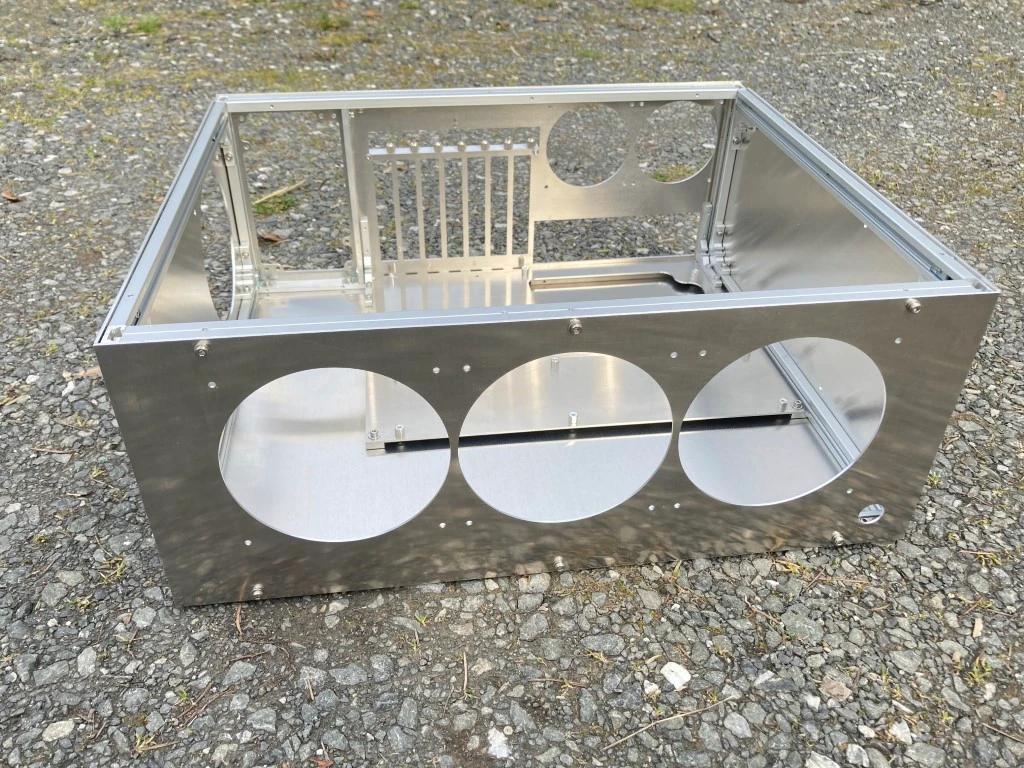 Frame for the BIOSTAR TB360-BTC D+ Riserless Motherboard
A simple frame for the BIOSTAR TB360-BTC D+ riserless motherboard and server PSU.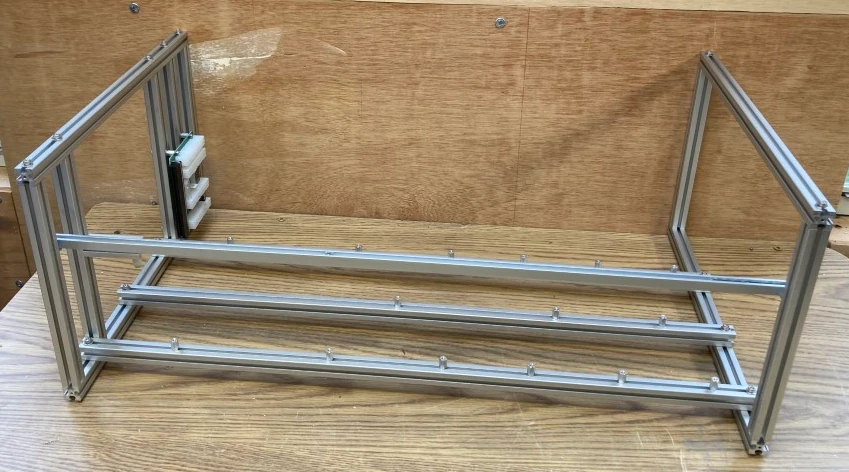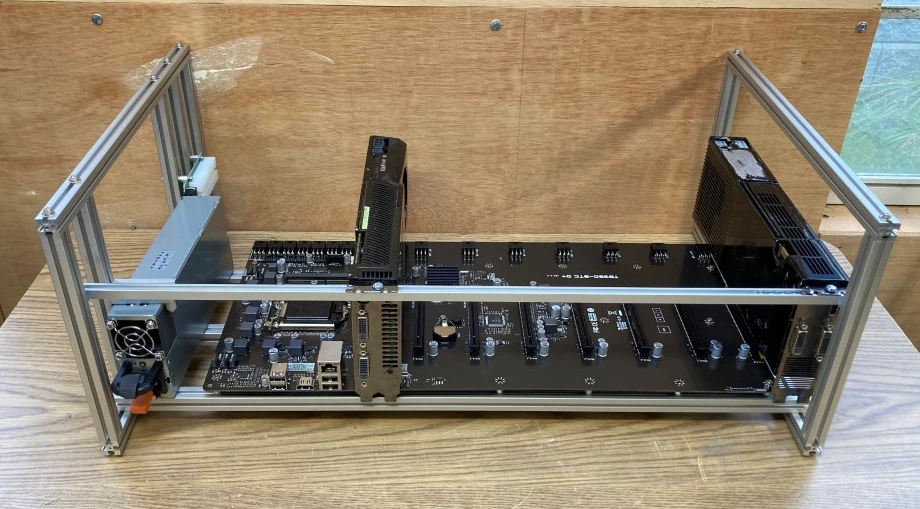 ---


Open-frame for 48x HDs
This is a two tier frame for 48x HDs, two server PSUs and an EEB form factor motherboard.



Three Tier Open-frame
This is a three tier open-air frame for a GPU rendering rig, which will consist of a Threadripper Pro system, seven RTX 3090 cards, a 240 AIO and dual PSUs.


Square Server/rack case




Simple shallow server case frame
Custom shallow 4U case frame.


Custom Frame for 24x 5.25-inch Drives
Custom computer case frame for 2x PSUs and 24x 5.25-inch drives.



Box for 4x 420 Radiators


MicroATX Tech Station for Liquid Cooling
This custom microATX tech station was designed for a rig to be kept cool via single-phase liquid cooling.


Stand for a Reservoir and Radiator
This custom stand for a Radikult Custom reservoir and a 420 radiator was made from 15mm square anodized t-slot extrusion.

Tall and Deep Radiator Box
This custom tall, narrow and deep external radiator box holds holds a SFX PSU, fan controller, and a 560 radiator (4x 140mm).








Here's the radiator box installed in its unique location:


Frame for 12x 5.25-inch drives
We built this case frame to house a workstation motherboard (X9DR3‑LN4F+) and 12x 5.25″ drive bays.



Box for 560 Radiator
This custom radiator box was built to house an Alphacool 560 radiator, SFX PSU, fan controller and an EK reservoir.




Render Station
This custom enclosure was designed and built to house an ATX motherboard, but with four GPUs mounted over the motherboard, running SideFX and Redshift software.



Test Bench for Server Form Factor Motherboards
A test bench for a large server motherboard (SSI EEB-spec, such as INTEL® SERVER BOARD S2600CW2R).


GPU Server Case
GPU mining server form factor case frame.




4P/SWTX Case
Another custom case built to house a large 4P/SWTX size motherboard such as the X10DSC+.


Tiny Frame for Military Night Vision Goggles Case
This computer case frame was sized to fit in a mod'd night vision goggle case.



All-In-One Case
This large all-in-one case frame had the PC on the back and the monitor on the front (included a VESA mount).



Radiator boxes
Here's a couple of external radiator boxes.
This radiator box was sized to hold 3x 5.25-inch devices and 2x 360 radiators.

This box held 2x 240 radiators.

A CaseLabs 360 radiator mount was used in this radiator box:

Small Form Factor
A custom mini-ITX case frame.


---
An oak SFF PC case:


A cherry micro-ATX case:



Wooden Cases
A very large wooden case.



This modular wooden case was designed to hold an EVGA SR2 motherboard along with multiple quad 140mm radiators.





Drum Cases
These cases were built the same way a musical drum builder would build them. The yellow case was commissioned by AMD for a booth at the Austin City Limits Music Festival.




More pictures of custom cases are in the gallery.